Come Celebrate with Us!
Rutledge Park, Druid Hills' newest park at 1812 Ridgewood Drive, is happy to announce the completion of Phase One.  A Grand Opening Ceremony is scheduled to take place on Thursday, May 21st at 10:00 AM, and the public is invited to attend.  Also scheduled is a park opening party to welcome the community to the park on June 6th from 10:00 until noon.  The opening party will feature free popsicles, the annual Turtle Egg hunt, which will include candy and prizes sponsored by local businesses in the area.  Also featured will be free chair massage sessions provided by Align Therapeutic Message and Bodywork.  There is no parking, but the event is open to all who are interested and willing to walk there.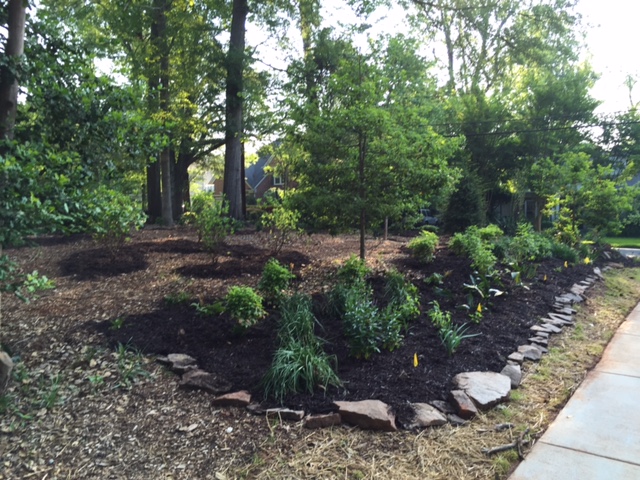 As currently planned, the project is comprised of three phases.  Phase One addresses park infrastructure, the entry area, plantings and playground development as well as other high priority (per the visioning process) items.  Phases Two and Three will incorporate other park spaces and lower priority items, and will be dependent on future fundraising to be implemented.
The Rutledge Park Steering Community wishes to thank DeKalb County for their continued contributions and outstanding management and support, and to Park Pride for their leadership, encouragement, facilitation, and the $50K grant which was a critical catalyst in moving the park from concept to reality. Many thanks to DHCA for working with DeKalb County in 2005 and their recommendation for the acquisition of the green space property for the purpose of establishing the park.  The committee also wishes to thank Emory Presbyterian Church for providing space for all the public Visioning meetings, and to the Olmstead Linear Park Alliance, and Fernbank Museum for providing space for the Steering Committee meetings throughout the entire project.  Finally, thank you to many local community volunteers and the Atlanta Audubon Society for their efforts that have resulted in great progress in clearing the property of debris (especially old, and in some cases antique, tires), the removal of invasive plants, fundraising, guidance and support.
For more information about Rutledge Park, please visit: www.rutledgepark.org