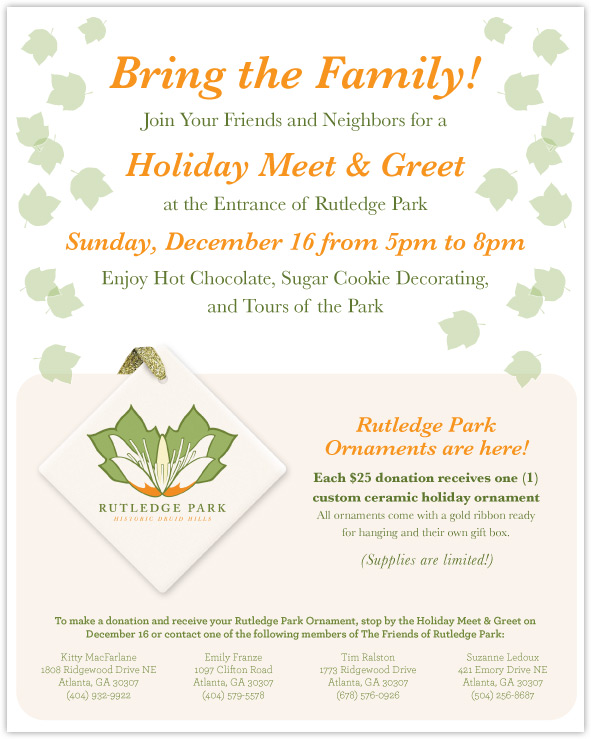 Bring the family and join your Druid Hills friends and neighbors for a Holiday Meet & Greet at the entrance of Rutledge Park (1812 Ridgewood Drive NE, Atlanta, GA 30307) on Sunday, December 16th from 5pm until 8pm.
Enjoy hot chocolate, sugar cookie decorating, and tours of the park!
Rutledge Park Ornaments are here!
Each $25 donation receives one (1) custom ceramic holiday ornament. All ornaments come with a gold ribbon ready for hanging and their own gift box. Supplies are limited!
To make a donation and receive your Rutledge Park Ornament, stop by the Holiday Meet & Greet on December 16 or contact one of the following members of The Friends of Rutledge Park:
Kitty MacFarlane
1808 Ridgewood Drive NE
Atlanta, GA 30307
(404) 932-9922

Emily Franze
1097 Clifton Road
Atlanta, GA 30307
(404) 579-5578

Tim Ralston
1773 Ridgewood Drive
Atlanta, GA 30307
(678) 576-0926

Suzanne Ledoux
421 Emory Drive NE
Atlanta, GA 30307
(504) 256-8687